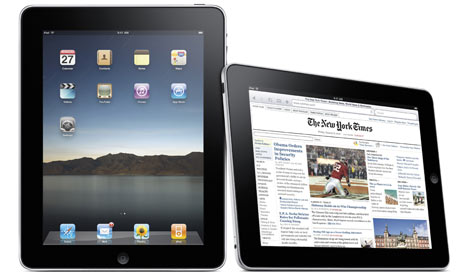 I was eager to see what Apple had to offer and I personally had some high expectations for them. We all expected them to release a tablet of some sort perhaps called the iSlate? But to our surprise they named it the iPad...my first thought was "you mean the feminine hygiene product?" I was very disappointed with the name, why not name it the iSlate? I mean that would sound so much better! Just look at twitter and clearly the majority of people were unhappy with that name.
Interface sucks?
I expected a new interface "build from the ground up" as they like to say. They are building apps fromm the ground up so they can better work with the iPad, what about the interface? Why not have a new interface for this new device.
There is so much space between the icons (maybe bigger icons to fill in the space? I'm not an expert but I want to see something brand new) and makes us all feel like its a blown up iTouch as shown
here
.
I'm hesitant to buy it, mainly because the name does bother me and doesn't seem too different from the iPhone...still no flash. I'll just stick with my iPhone and all will be well.
What do you think about the iPad? Do you think it's affordable?
Leave your thoughts and comments below.